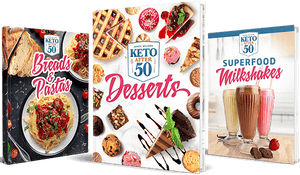 YOU'RE PROTECTED BY OUR 90-DAY MONEY BACK GUARANTEE!
Simply put, if you don't see the results you wish for, send us an email or give us a call within the next 3 months and we will return everything you paid. We will even let you keep your product as our way of saying thank you for trying. That's how confident we are in the quality of our products.
Keto After 50 Desserts
Regular price $225.00 $19.00 Sale
Low Inventory Alert
Bottles left in stock:29
Keto After 50 Desserts
Now it's finally possible to be on the keto diet without having to sacrifice our favorite desserts!
And do so conveniently over the age of 50 and beyond.
This first-of-its-kind program has already been taste-tested by thousands of beta users and the feedback has been extraordinary!
People are finally able to enjoy the pleasure of desserts while getting into the best shape of their lives and eliminating processed sugar from their diets.
As I'm sure you know, processed sugars have been linked to severe health risks.
And they're especially dangerous after the age of 50, because our immune systems and metabolisms aren't as strong as they were in our 20s or 30s, when we could consume sugars without harmful effects our bodies.

So now we have to be extra-careful when it comes to the stuff we put in our body.
Fortunately, the incredibly delicious desserts that I'm about to share with you have no processed sugars orpreservatives.
They even contain
 

nutrient-rich ingredients

 

that can…
Strengthen Your Immune System

Boost Your Metabolism

Provide Youthful All-Day Energy

Improve Mental Clarity & Focus

Satisfy Sweet Tooth & Sugar Cravings
Now you can finally enjoy your desserts guilt-free, knowing that each dessert is nutrient-rich and great for your health!
Whether it's a black forest cake drenched in chocolate…
Or banana split ice cream overflowing with toppings…
And even lemon squares that immediately melt in your mouth…
And if that wasn't enough, you're also getting…
2 FREE BONUSES
FREE BONUS #1
Keto After 50
Superfood Milkshakes
Do you remember going down to the local diner and ordering your favorite milkshake?
Taking that first taste of a thick, velvety, chocolate milkshake that perhaps you shared with a crush or with the gang after a night out?
You can be on the keto diet and experience all that once more!
Introducing Keto After 50 Superfood Milkshakes.
Inside, you'll find the top recipes for delicious milkshakes that are keto‑friendly and will leave your sweet tooth 100% satisfied.
And that's not all…
We'll also show you which superfoods you can add to your milkshakes to further complement the keto diet, a healthier metabolism, and improved overall well-being.
For the first time ever, you can have healthy and delicious milkshakes, any time you want!
While being able to finally eat a real dessert, every single day is going to improve the keto diet on so many levels, I want to introduce another bonus that will push your success even further.
FREE BONUS #2
Keto After 50
Breads & Pastas
Inside you'll find dozens of recipes for your favorite breads and pastas that can satisfy your carb craving every single time.
Imagine being able to eat a real hamburger without having to throw away the buns…
Or pouring meat sauce over a huge plate of spaghetti…
It blows everything you've ever known about the keto diet out of the water.
We use healthy and delicious alternative ingredients to give you the best bread and pasta, so you can stay on track with the keto diet and achieve your goals.


| | |
| --- | --- |
| Keto After 50 DEsserts | REGULAR PRICE: $99 |
| Keto After 50 Superfood Milkshake | REGULAR PRICE: $39  |
| Keto After 50 Breads And Pasta | REGULAR PRICE: $39 |
| Instant Digital Access | REGULAR PRICE: $49 |
| Full Keto After 50 Desserts System | TODAY'S PRICE: $19 |
Your books will be shipped immediately, but you don't have to wait! As soon as you claim your books, you'll get instant access to our members-only area, where you can download electronic versions of everything in the Keto After 50 Desserts program, so you can get started today!