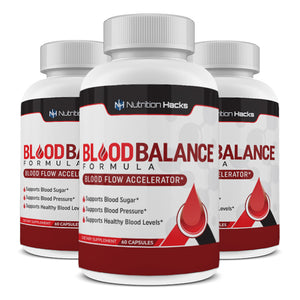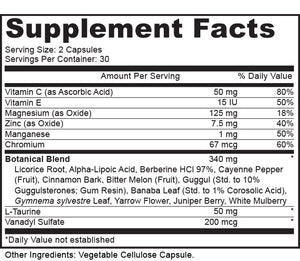 YOU'RE PROTECTED BY OUR 90-DAY MONEY BACK GUARANTEE!
Simply put, if you don't see the results you wish for, send us an email or give us a call within the next 3 months and we will return everything you paid. We will even let you keep your product as our way of saying thank you for trying. That's how confident we are in the quality of our products.
Blood Balance Formula - 3 Bottles
Regular price $297.95 $117.95 Sale
Low Inventory Alert
Bottles left in stock:29
This is the only formula on the planet that can simultaneously help reduce sugar and blood pressure levels.
Health Ingredients Include:
White Mulberry Leaf
In one recent study, taking one gram of a powdered leaf of "White Mulberry" just three times a day for 4 weeks, decreased fasting blood sugar levels by 27%, compared with an 8% decrease with a "big pharma" diabetes medicine.
On top of that, in a study conducted on a group of people on a low calorie diet were given either a placebo or white mulberry. Amazingly, the participants in the white mulberry group lost 19.8 pounds in just 90 days.
And that rate of steady weight loss has been shown to make it easier to keep the weight off. Each pound of weight loss may reduce the risk of diabetes by 16%. If you can lose 19.8 pounds, you will have almost a 317% percent lower risk!
Juniper Berry
Juniper Berry has an abundant amount of natural antioxidant and anti-inflammatory compounds.
If you keep up to date with the latest health news and you know the power of antioxidants for your health, you know what a blessing this ingredient will be for your blood balance.
Vitamin E
Vitamin E is also a potent antioxidant and anti-inflammatory. Unfortunately, many supplements use a cheap synthetic form of Vitamin E…
The difference is actually how it's spelled…
The only kind we would use is called d-Alpha tocopheryl succinate.
Other "fake" Vitamin E's will have a dL as the prefix instead of the "d-".
These synthetic Vitamin E's won't have the same level of anti-inflammatories or antioxidants.
And since researchers now know for sure that inflammation is somehow involved in the development of Type 2 Diabetes, Cardiovascular Disease and heavily associated with Obesity. It is essential to make sure you are taking the highest quality Vitamin E.
Biotin
Biotin can help reduce blood sugar levels in people with both types of blood sugar complications and possibly eliminate the symptoms of diabetic neuropathy, which is nerve damage caused from high blood sugar and this nerve damage can lead to numbness, pain and eventually being totally paralyzed.
Chromium
Chromium's main job is regulating the amount of glucose in the blood, and insulin helps move glucose out of the blood and into the cells for energy…
When your insulin moves glucose, it uses Chromium as an assistant (or what's called a cofactor) to "unlock the door" into the cells and allows glucose to energize you instead of remaining in your bloodstream where it drains your energy.
A super-accurate double blind, placebo controlled study of 180 people who took chromium showed significant decrease in fasting glucose after 2 months. Which means, Chromium helps you feel more energized rather than foggy and sluggish.
Magnesium
Magnesium is actually a key player in preventing more health conditions than you can shake a stick at.
There was a wild study conducted in the Netherlands that lasted for 9 years…
Scientists followed around thousands of older men and women and discovered those with the lowest magnesium levels in their blood were 36% more likely to die from coronary heart disease and 54% more likely to experience sudden cardiac death over the course of the study than those with healthy magnesium levels.
In another study, increased consumption of magnesium has been shown to help reduce blood sugar levels.
Banaba Leaf & Guggul
Banaba Leaf which has an active ingredient called Corosolic Acid has been shown in human studies to help lower blood sugar within an hour.
Guggul is an antioxidant and anti-inflammatory like vitamin E and manganese, which plays an important role in fighting damaging free radicals in the body.
It has been used to address various conditions including: Joint pain, body fat, and of course blood pressure and blood sugar irregularities.
Bitter Melon
This melon contains at least 3 active substances with anti-diabetic properties and all 3 substances have been PROVEN to lower blood glucose levels.
Licorice Root Extract
One study found that people who took a licorice flavonoid oil each day for 8 weeks, experienced reductions in body fat, body weight, body mass index, and LDL cholesterol levels!
Cinnamon Bark Powder
Cinnamon Bark Powder can control your insulin levels in a way you never thought was possible.
Many studies have shown Cinnamon Bark Powder to decrease fasting plasma glucose and increase fat-free mass in overweight or obese pre-diabetic subjects.
And these beneficial effects may open up new and exciting avenues to prevent and control blood sugar.
Gymnema Sylvestre Leaf Powder & Yarrow Flowers Powder
The evidence shows that Gymnema Sylvestre Leaf Powder has been EXTREMELY effective against cardiovascular disease and obesity.
And Yarrow Flowers Powder is shown to help in hyperactive cardiovascular and airway disorders like hypertension and asthma.
Cayenne
Cayenne helps reduce appetite and helps the breakdown of body fats while increasing your natural metabolism and stabilizing blood glucose.
Alpha Lipoic Acid
It can pass easily into the brain and it may help protect the brain and nerve tissue.
Researchers are investigating it as a potential treatment for brain problems involving free radical damage.
L-Taurine
L-Taurine has been shown to lower blood pressure and improve vascular function in prehypertension.
Berberine
This ingredient is known for being the ultimate remedy for properly balancing blood sugar.
Numerous studies have shown, the incredible amount of anti-inflammatory and anti-diabetic benefits Berberine contains and it can even help:
Lower cholesterol levels
Improve intestinal health
Reduce glucose production in the liver
And on top of all that, this ingredient has been shown to help with weight loss support as well.